Phylica pubescens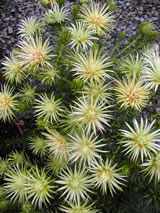 CATALOGUE DESCRIPTION
Bushy shrub with leathery, hair-covered narrow green leaves. Each branch ends in a flowerhead. These flowers are creamy-white and have a faint cinnamon scent. They flower in autumn and winter (May to August), are very showy, providing food for bees. Very popular for floral work. They need a warm sunny site with well drained soil. Tolerates light frost. Trim well after flowering.

Phylica
Species pubescens
Cultivar
Flannel flower
Rhamnaceae
South Africa
DETAILS
1 m
1 m
(expected growth in average NZ conditions in 5 to 10 years)
Evergreen
Needs well drained soil / Prefer good loamy soil / Prefers acidic / lime-free soil.
Prefers even moisture / Tolerates dry soils
Grows in sun or semi-shade / Tolerates coastal sites / Will tolerate moderate frosts
Enthusiast / Texture / Whimsical
Shrubs
Small, height between 1 and 1.5 metres.