Phormium 'Evening Glow'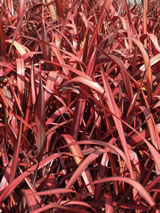 CATALOGUE DESCRIPTION
Wharariki. Medium perennial with erect young leaves bright red-pink leathery erect sword like leaves. Older leaves develop a spreading drooping habit. Tall stems up to 2 metres tall produce green tinged orange or yellow flowers in spring, loved by the tuis for their abundant nectar. These are followed by pendulous twisted seed capsules. Very tolerant of many soils and conditions. Chose good fertile soil though to maintain the best colour.The colourful foliage looks great against green and silver foliage.

Phormium
Species
Cultivar 'Evening Glow'
Red flax
Xanthorrhoeaceae
New Zealand
DETAILS
1 m
1 m
(expected growth in average NZ conditions in 5 to 10 years)
Evergreen
Grows in most soil types / Prefers good loamy soil
Tolerates dry soils
Grows in exposed or coastal sites. / Grows in sun or semi-shade / Will tolerate very hard frosts.
Indigenous / Nourishment / Structure / Texture
Grasses, sedges and flaxes.
Medium, height between 0.6 and 1.5 metres.