Ophiopogon planiscapus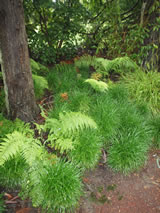 CATALOGUE DESCRIPTION
A dense evergreen, low-growing, plant slowly spreading with dark green broad leaves. The small lilac flowers in small clusters in summer are followed by large blue berries which are attractive when found hidden under the foliage. It is slowly spreading via short rhizomes so acts more like a clumping plant. Prefers shade. Lovely planted as an edging or in a pot.

Ophiopogon
Species planiscapus
Cultivar
MONDO GRASS
DETAILS
20 cm
20 cm
(expected growth in average NZ conditions in 5 to 10 years)
Ev.
Perennials
Small, height up to 0.6 metres.
All our current stock has been dispatched out to retailers. If they have none left for you, we are growing another crop to supply as soon as possible.
Where to buy our plants