Ophiopogon planiscapus 'Black Dragon'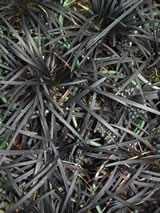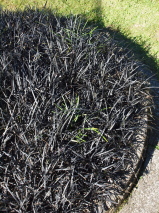 CATALOGUE DESCRIPTION
A dense evergreen, low-growing slowly spreading broad leaved grass-like plant, with bold black foliage. The small cream flowers in small clusters in summer are followed by large blue-black berries which are attractive when found hidden under the foliage. It is slowly spreading via short rhizomes so acts more like a clumping plant. Prefers shade. Lovely planted as an edging or in a pot.

Ophiopogon
Species planiscapus
Cultivar 'Black Dragon'
Black mondo grass
Liliaceae
Japan
DETAILS
20 cm
20 cm
(expected growth in average NZ conditions in 5 to 10 years)
Evergreen
Grows in most soil types
Tolerates dry soils
Grows in sun or shade / Will tolerate very hard frosts.
Immaculate / Magnificent / Sanctuary / Texture / Whimsical
Perennials
Small, height up to 0.6 metres.