Abelia x grandiflora 'Dwarf White'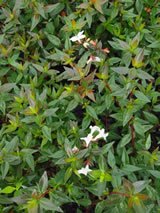 CATALOGUE DESCRIPTION
Easily grown small shrub with glossy green foliage which turns bronze in autumn. Clusters of pure white flowers throughout the summer. This plant is very hardy to cold. It prefers a sunny site. Excellent for hedging.

Abelia
Species x grandiflora
Cultivar 'Dwarf White'
Abelia
Caprifoliaceae
Garden origin
DETAILS
1 m
1 m
(expected growth in average NZ conditions in 5 to 10 years)
Semi-evergreen
Grows in most soil types / Needs well drained soil
Avoid wet soil.
Grows in exposed or coastal sites. / Grows in sun or semi-shade / Tolerates shade / Will tolerate very hard frosts.
Immaculate / Texture / Whimsical
Shrubs
Small, height between 1 and 1.5 metres.